Women's Ministry
UPCOMING EVENTS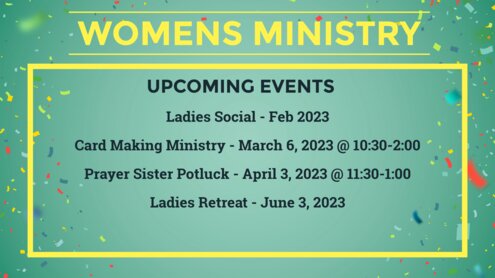 WOMENS MINISTRY TEAM
COORDINATOR ~ WENDY WEIS
email: wweis2010@gmail.com
Administer the work of the women's ministry's by encouraging teamwork and mutual support and by providing leadership for all. This may include coordinating women's conferences, special service projects and trips. Develop the women's ministry budget plan, annually, along with ministry team reports to the board for the church AGM.
HOSPITALITY ~ PAULETTE NELSON
email: Paulette.emmel@gmail.com
Coordinates meals and lodging for special guests, billets and travelling groups. Also organizes "Guess Who's Coming To Dinner?"
WOMENS CHRISTMAS EVENT ~ JOAN THOMPSON
email: rjthompson30@gmail.com
The purpose of this committee is to provide opportunities to reach into our surrounding communities. Our events are designed to build relationships, provide entry points to our church and present the gospel. This team plans a Women's Christmas Event late Nov/ early Dec.
PRAYER SISTER ~ RENEE JACKSON
email:gnrnchm@gmail.com
This team's mission is to create a community of women who pray and encourage each other in our walk of faith through our relations with Jesus and one another. The purpose of this program is to care for, share with and encourage one another. However, the main purpose is to pray for each other. Ladies can join at any time, with our program running from April - March drawing new names at our annual year end party in April.
LADIES RETREAT ~ NICKI CHALIFOUX
email: nicki.chalifoux@gmail.com
This team's desire is to create a sense of belonging in our church and community through a retreat for women. We aspire to create a warm and welcoming environment that enables ladies to connect with each other as we study God's word.
COMPASSION ~ MONIKA CAPPIS
email: mcappis@persona.ca
This team serves others by visiting or sending cards to those who are grieving, hospitalized, seniors, shut-ins, lonely or facing some kind of crisis. Encouragement and prayer support are important aspects of this ministry. In certain crisis situations, a group of people may be mobilized to provide practical assistance (ie: meals (see below), child care or transportation).
CARD MINISTRY ~ MICHELE SHPAKOWSKY & RENEE JACKSON
Making hand-made cards that will be given to other ministries to bless others with an encouraging word. This ministry is open to all women to come fellowship while we put cards together. All supplies and instructions will be provided. You will be welcome to take 1 card home while the rest of the cards made will go into the card ministry supply. Cards will be used for our church's ministries such as the Prayer Sisters and Compassion Ministry other cards will be sent out to various community ministries.
MEAL TRAIN
The perfect way to organize meal giving. Do you have a friend that just had a baby, surgery or illness? Set up a meal train through the church. Once you have set it up you need to send the link to the church office so it can be shared with the church family. entwistlechurchoffice@gmail.com
Organize a Meal Train Now
PRAYER REQUESTS
Let us pray with you, please send your prayer requests to eccprayerrequests@gmail.com
Please note this email is only monitored once a day. If you have an urgent request please call the church office @ 780-727-2829
Prayer Request Guidelines
It is our task to be faithful in lifting up those individuals that are in need of prayer. Because of privacy laws, we ask you only provide the first name of the individuals(s) we are praying for and that you keep the information simple and only share the FACTS.
Our Heavenly Father knows who they are and He has all the specifics in His hands.
Prayers submitted are subject for review and we reserve the right to edit the request to insure that we are being sensitive and respectful of the individuals(s) rights, privacy and the need for confidentiality.
Example:
Please pray for Lois who will be undergoing Breast Cancer surgery this coming Tuesday, 8/28.
Healing is a long process that begins with prayer and faith.
Thank you