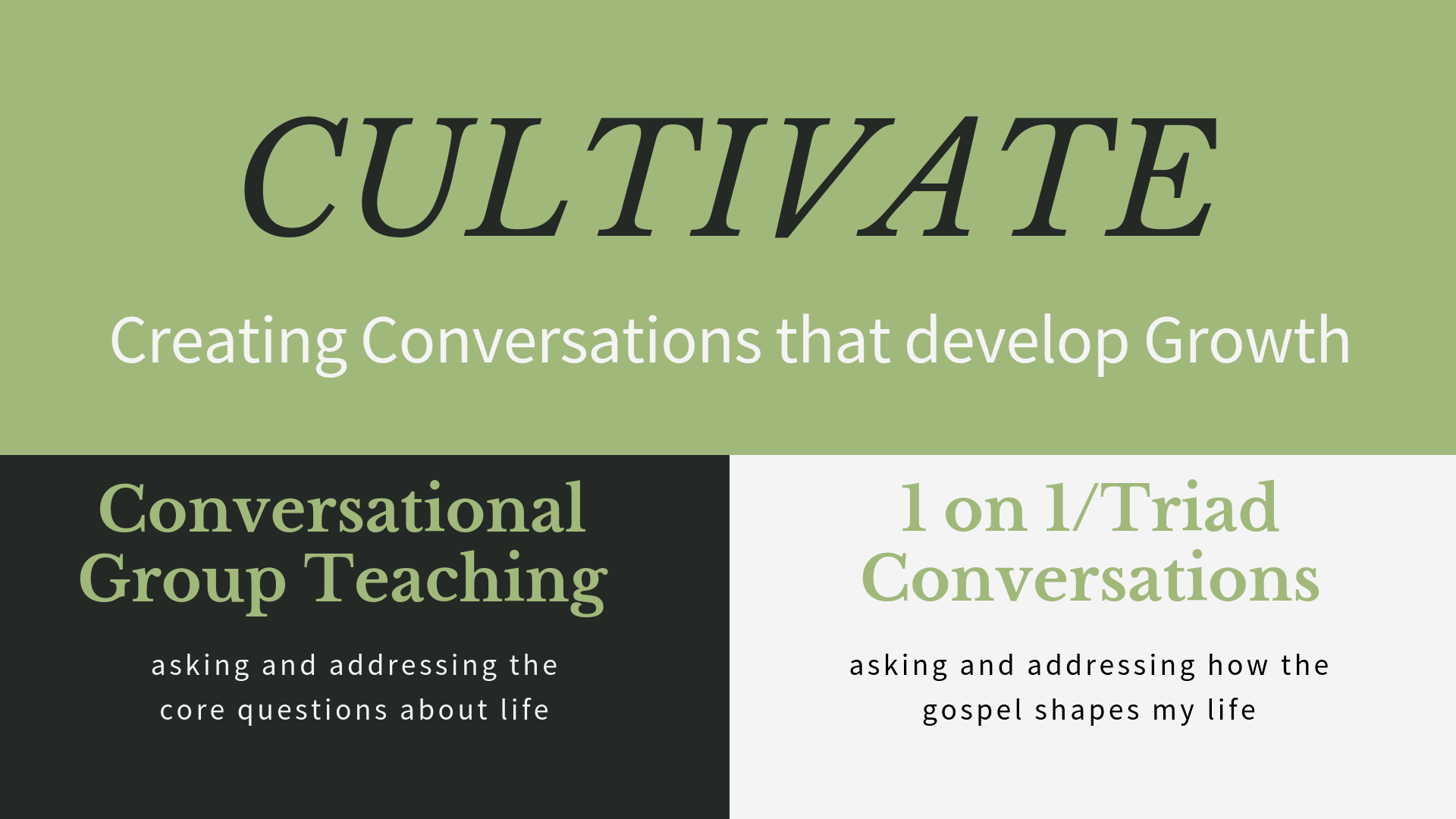 What are Cultivating Conversations?
Cultivating Conversations include two aspects:
1. Conversational Group Teaching which happens at a monthly gathering on Saturday nights consisting of fun fellowship, basic teaching and open conversations.
a. These conversations will be led by Pastor Micah. Anyone is welcome, no matter where you are at spiritually. However, discussion will cater those starting out in their spiritual journey.
b. There will be a potluck dinner at 6pm and then conversational teaching from 6:30-8pm.
2. 1 on 1/ Triad Conversations which happens in a discipleship experience of groups of two or three led by a qualified leader.
a. These groups, all of the same gender, meet regularly for personal accountability in the areas of their spiritual growth and development.
Why Are Cultivating Conversations Important?
We want to begin the conversation of developing a rich and practical understanding of how the gospel can give shape to every part of our lives. Faith and discipleship are immensely practical. They shape, form, and renew the parts of us that matter most.
Cultivating Conversations will develop: Relational Transparency, Life-changing Accountability, Biblical Literacy, and Spiritual Habit Formation.
When and Where Do Cultivating Conversations Meet?
The Large Open Conversation takes place at Entwistle Community Church
· These meeting will take place one Saturday a month from 6-8pm.
o Oct, 27, Nov 24, Dec 15, Jan 12, Feb 23, Mar 30, April 27, May 25
The Small Intimate Conversation takes place whenever it works for the two/three of you.
How Do I Find Out More About Cultivating Conversations?
If you are interested in being part of CULTIVATE and creating conversations that develop growth contact:
Pastor Micah (780-727-2828 or entwistlechurch@gmail.com)
Len Thompson (780-908-4888 or leonardthompson2025@gmail.com)
NEXT STEPS
What could becoming like Christ look like this year?
We believe CULTIVATE is for anyone interested in learning more about Jesus and his way of thinking about and engaging the world. We hope you'll take a step forward in discipleship this year. If it took Jesus 3 years as a master teacher to train his disciples we expect at least the same amount of time. We hope to build long term relationships. We invite you to consider becoming part of an ongoing cultivating conversation.